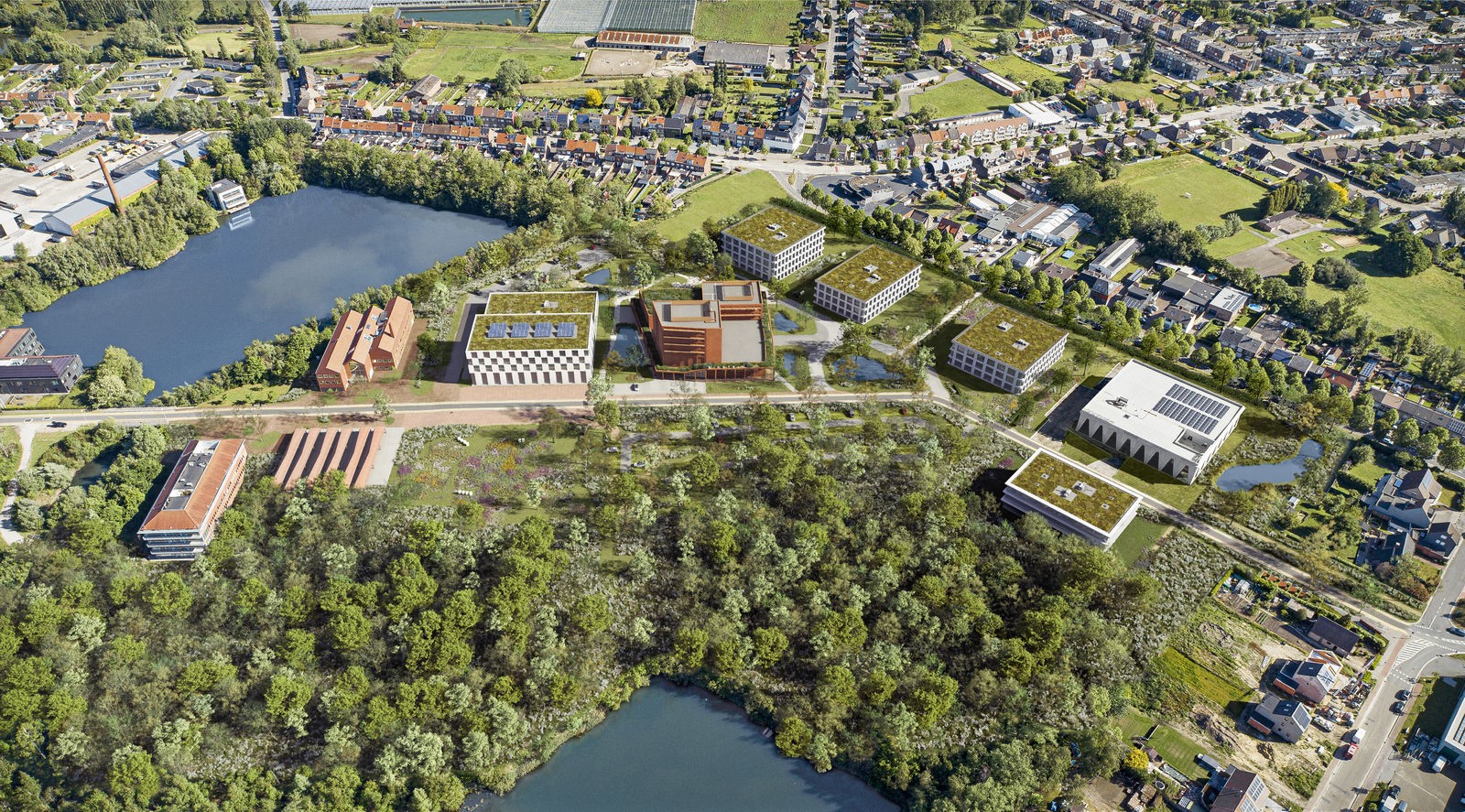 Masterplan
POM Antwerp continuously invests in new infrastructure in the park, either independently or in collaboration with partners. The campus is therefore constantly on the move in order to meet the growing demand from companies looking for labs, offices or a building of their own.
Future plans for the park
The further development is always done with a carefully considered approach to the smart use of space, sustainable construction techniques, with an eye for the balance between work and nature. We absolutely want to preserve that unique character. Further development is based on a master plan that allows us to respond flexibly to market demands, without detracting from the image of the campus. About a quarter of the park has now been completed; plans for further development are in place. Most of the construction volume will be cleverly clustered north of the Galileilaan in Niel. This gives nature free rein on the slopes. Water basins between the buildings collect rainwater and add structure to the park. In addition, they create distance between the buildings, resulting in less direct visibility and more privacy. This is not unimportant on an R&D campus where offices, labs, conference rooms and a restaurant need to be given a place.
The Science Park offers diverse solutions to growth companies looking for space. Would you like to find out what we can do for you? Discover our offer here
A rich history at the Science Park in Niel
The origin of the Science Park can be traced back to the industrialisation of the last century, when clay was mined in the Rupel region for the production of brick. The site consists of a vast plain bordered by lower lakes, the former clay pits. But where bricks were once laid to dry on the flat plateau, today it is the place where some 500 entrepreneurs and scientists are building the future.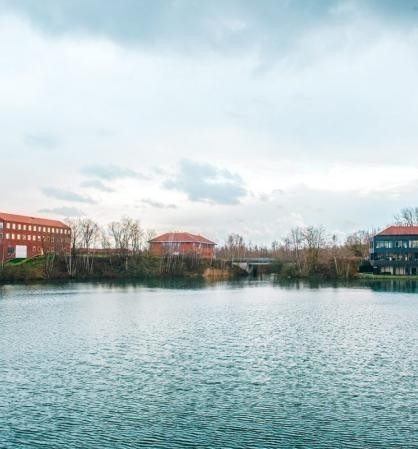 Biodiversity
The Science Park is adjacent to the Walenhoek nature reserve, a green lung in the Rupel region. You will find a varied landscape with bog forests, meadows and brush. More than 160 bird species breed in the many ponds on the domain, while for many migratory birds, it is a favourite place to spend the winter. Amphibians, reptiles, dragonflies and damselflies also flourish here.
POM Antwerp is aware that when developing areas for industry, attention must also be paid to preserving nature and the living environment. We therefore want to support the biodiversity, the wide variety of animals, plants and habitats in the park. With our biodiversity plan and forest management plan, we want to identify the fauna and flora present and ensure their survival.
In May 2020, we dug up a few young birches within the building framework, after which the ground was levelled and a flower meadow was sown to give bees and other insects a better chance to thrive in the park. This meant that we got to enjoy spotting flowers and butterflies in the park this summer.